Herod's persecution, Peter's deliverance and Herod's death.
We believe the persecution mentioned in the first verse occurred about the same time as the famine that Agabus prophesied namely around 43AD.
Herod was a title given to the kings not a name and the Herod here is Herod Agrippa (see charts) who also executed John the Baptist.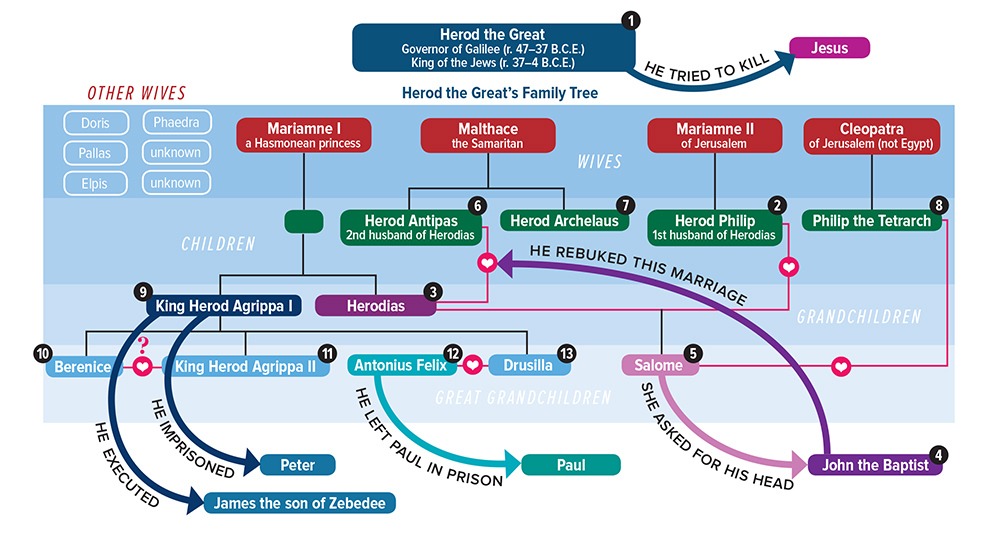 He was the son of Herod the Great who killed the babes of Bethlehem and he reigned over most of Israel (Judea, Samaria, Galilee, Perea). He was an Edomite.
He sought to please the Jews (especially Jewish leaders) and this was why he persecuted the apostles and the church and killed James (Boanerges and son of Zebedee).
He imprisoned Peter with a view to executing him and Passover was when Jerusalem was filled with zealous Jews from all over Israel and beyond. Perhaps he thought to stamp out the church.
We presume the church prayed for Peter's release, witness in prison and likely his impending martyrdom. Surely Peter's release was answered prayer!
We believe Peter was at peace enabled by grace to trust his Saviour (Psalm 4:8, 119:165 etc).
The angel who delivered Peter was a messenger of the Lord Jesus Christ (v11).
Sequence of events: light in prison, angel smites Peter, angel instructs Peter, Peter's chains fell off, angel further instructs Peter, Peter follows angel out of prison, gate opens, they walk through the streets, angel leaves.
Peter thought it was a vision but after the angel left he realised what he was experiencing was real.
The Jews expected Peter to be killed. He went to Mary's house (mother of John Mark and Barnabas's sister) to see the other apostles and all the disciples to tell them the news and encourage them. The interaction between Rhoda and Peter was funny. Peter commanded that his news be told to James (the Lord's half brother), and then he went presumably to another believer's house.

The soldiers were terrified because they knew the penalty for allowing prisoners to escape was death and this is what happened because Herod was a cruel man.
Herod left Jerusalem for Caesarea possibly to escape awkward questions from Jewish leaders and went there because of displeasure with the inhabitants of the region. The local populace got his secretary on their side desiring peace. Herod subsequently gave a speech on a planned day arrayed in royal apparel no doubt speaking of his greatness and reign over the people desiring to impress and subdue them. Their reacion was either foolish flattery or outright deception (sent by God-II Thess.2:11) as they attributed divinity to him.

God struck him down immediatley (cf Ananias and Sapphira) because he proudly and wrongfully accepted glory that belongs only to God (Isaiah 42:8). Compare also Nebuchadnezzar reduced to madness (I Peter 5:5). The immediate judgment empasized prompt punishment by God which in other cases is postponed (Rev. 6:10). It was the angel of the Lord who smote Herod (cf Egypt, Assyrian 185,000 etc). He died of an overwhelming worm infestation, most likely over a few days and appropriately because pride consumed him first.
The church work of preaching and teaching prospered and it grew.
Barnabas and Saul returned to their home church in Antioch (chapter 13) after passing on their benevolence in Jerusalem.
John Mark was related to Barnabas, propably a nephew and son of Mary (Col.4:10).
Next study (DV) August 31st 8pm